Heart Attack
Go for a healthy diet to lower cholesterol—such as trans fat-free food, fruits and vegetables
Beat obesity by taking up a weight loss program
Reduce salt intake to reduce blood pressure
Increase physical activity such as walking and other forms of exercise
Quit smoking and excessive alcohol intake
Do yoga, meditation and spend quality time with family and friends to beat stress
Tips
As with a stroke, it is important for a person to get immediate medical help if they experience a heart attack in order to lessen the chance of death or severe complications. Understanding the risk factors for heart attacks can help a person prevent one from happening in the first place.
It is also very important for a person with risk factors for heart attacks to understand the warning signs and to have a plan of action for their loved ones to follow if they believe they are experiencing a heart attack.
More information: http://www.wikihow.com/Prevent-a-Heart-Attack
CPR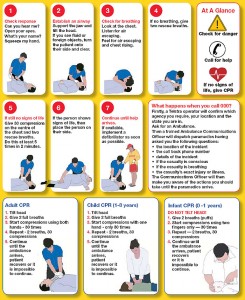 What is CPR
Before we learn this technique, it is important to know what sudden cardiac arrest is. Sudden cardiac arrest occurs when the electrical conducting system of the heart fails and the heart beats irregularly and very fast, more than 1000 times, technically called as ventricular fibrillation. The heart suddenly stops beating. The blood flow to the brain stops. As a result, the person becomes unconscious and stops normal breathing. A cardiac arrest is not the same as a heart attack, but it may be caused by a heart attack. In most cases, sudden cardiac arrest may be reversible in the first 10 minutes. The brain remains alive during this period even though the heart and respiration have stopped. This is called clinical death.
Continuous compression only CPR compresses the heart between the sternum and the back bone and builds up the pressure that keeps the oxygenated blood flowing to the brain and keeps the person alive until a defibrillator becomes available or expert medical help is at hand. Therefore, if you see someone collapse from sudden cardiac arrest, acting promptly can save their life. The best approach is to give electric shock by an automated external defibrillator (AED) if available. If not, then try thumping in the centre of chest from a distance of 1 foot.
Technique
Let us now learn the correct technique of performing continuous compression CPR step by step (DRS ABC)
D is to Check for Danger
R is to Check for Responsiveness
S is to Shout for help – ask a bystander to dial 108/ call an ambulance
A is to Open Airway
Bis to Check forBreathing – if not breathing, start CPR.
Cis forCPR
Check for responsiveness by shaking and shouting at the person.
Then begin chest compressions. Kneel down by the side of the person in front of the chest.
Put the heel of your hand in the center of the chest on the sternum. Center of the chest means a line drawn between the nipples.
Put the heel of your other hand on top and interlock.
Keep your elbows straight and bring your shoulders directly over the centre of the chest. Then compress the chest up to 5 cm.
Do not remove your hands. Allow the chest to return to the normal position before you push down again.
Continue to push hard and fast, until expert medical help is available and/or electric shock machine is available. Stop only if the patient speaks, moves, or breathes normally.
Remember to push hard (compress 5 cm with each down stroke) and push fast (100 per minute) at the center of the chest.
Don't worry … this pumping action will not hurt the victim. Chest compression should be done continuously and without interruptions. Do not stop to check for a pulse, clear the airway or do mouth to mouth breathing It is important to act quickly… every minute lost reduces the chances of revival by 10% … So, if you wait 5 minutes, the chances of surviving are 50% less. The earlier you give CPR to a person in cardiac arrest, the greater the chance of a successful resuscitation. Persons with cardiac arrest are more than five times more likely to survive if CPR is attempted while the patient is still gasping. Studies show that continuous chest compression CPR is more effective and can save more lives than traditional CPR. This is because continuous compression only CPR can be done by trained as well as untrained bystanders.
If you would like to facilitate a CPR training session in your community, please write to hello@whitefieldrising.org
Need Blood
Friends2Support: https://friends2support.org/
You can also write to us at: hello@whitefieldrising.org
You can also write to us at: hello@whitefieldrising.org
| | |
| --- | --- |
| RxDx | 080 49261198 |
| Columbia Asia | 080 6161 6666 |
| Sakra World Hospital | 080 4962 4962 |
| Vydehi Hospital | 080 28412956/28413381 |
| Brookefield Hospital | 080 66534919 |
| Narayana Hrudalaya Hospital | 080 66508378 |
| VIMS Speciality Hospital | 080 42698000 |
| Yashomati Hospital | 080 66536762 |
| | |
| --- | --- |
| Bangalore Baptist Hospital | 23330322 / 23330323 |
| Bangalore Children's Hospital & Research Centre | 28600252 / 28600552 |
| Bangalore Hospital | 26562753 / 26565494 |
| Bangalore Institute of Oncology | 22225698 / 22225644 |
| Bhagwan Mahaveer Jain Hospital | 22207640 / 22207649 |
| BKF – Round Table Voluntary Blood Bank | 26392697 |
| Dr. Shivaji Rao's Blood Bank | 22224044 |
| Grace Blood Bank | 23336608 |
| HOSMAT | 25543746 |
| Karnataka Red Cross Blood Bank ( Voluntary ) | 22268435 |
| KIMS Hospital | 26673056 / 26624870 |
| Lions Blood Bank ( Voluntary ) | 22266807 |
| Jeeva Voluntary Blood Bank & Diagnotic Centre | 26500736 |
| Jayadeva Institute of Cardiology | 26534600 |
| Minerva Voluntary Blood Bank | 26574830 |
| M S Ramaiah Medical Hospital | 23606545 / 23606524 |
| Narayana Hrudayala | 27835000 / 27835001 |
| Navarang Blood Bank | 23521233 |
| Naveen Blood Bank | 26341907 |
| NIMHANS | 26995000 / 26568121 |
| Rashtrothana Blood Bank | 26612730 |
| Rotary – TTK Blood Bank | 25293486 / 25287903 |
| Sagar Apollo Hospital | 26536700 / 26536701 |
| Sanjay Gandhi Accodent Hospital & Research Institute | 26564516 |
| Sushruta Voluntary Blood Bank | 23447666 / 23340153 |
| Unique Blood Bank | 26700685 / 26709970 |
| Vanivilas Hospital | 26705206 |
| Victoria Hospital | 26701150 |
Get blood samples collected from your home.
Call
Thyrocare – Saleem 09886286260
SRL Ranbaxy –Shrinivasa +91 96-63-255310
A good resource: https://bengaluru.citizenmatters.in/where-to-find-blood-in-bangalore-5918
Ambulance
Ambulance Services
| | |
| --- | --- |
| 108 | 108 |
| RxDx | 080 49261198 |
| Vydehi Hospital | 080 41259032 |
| Brookefield Hospital | 080 66534919 |
| Narayan Health Ambulance Service | 080 71112424 |
| VIMS Speciality Hospital | 080 42698000 |
| Yashomati Hospital | 080 49153319 |
| Amebicare | 080 23323560/23329909 |
| Indian Red Cross | 080 22264205/22268435 |
| Manipal Hospital | 08067947298 |
| Karunshraya Hospital | 080 28476133 |
Hospitals
| | |
| --- | --- |
| RxDx | 080 49261198 |
| Columbia Asia | 080 6161 6666 |
| Sakra World Hospital | 080 4962 4962 |
| Vydehi Hospital | 080 28412956/28413381 |
| Brookefield Hospital | 080 66534919 |
| Femiint Health | 1 800 258 5727 |
| Manipal Whitefield | 080 22221111 |
| Yashomati Hospital | 080 66536762 |
24 hour pharmacies
| | |
| --- | --- |
| Brookfield Hospital | 080 42445566 |
| Manipal Hospital | 080 25023247 |
| Vydehi Hospital | 9900074698 |
| Yashomati Hospital | 080 43221047 |
Medical Insurance for BPL card holders
Vajpayee Arogya Suvarna scheme – This medical scheme for the staff who have BPL (ration) card.
In case your staff does not have a BPL card, please refer to https://wiki.whitefieldrising.org/how-to-get-ration-card/ for applying for one.
The details of the scheme are as below.
Families:
The Health Insurance Scheme will cover 5 members of a family as enumerated and photographed on the BPL card. The name/ photograph indicated in the BPL card will be taken as proof of identity of the beneficiary.
Enrolment:
Department of Food and Civil Supplies, Govt. of Karnataka will provide the details of each BPL family covered under the scheme through the BPL card. This BPL card will be a part of enrolment/ identification for availing the health insurance facility.
Payment of Premium:
Government of Karnataka/ Trust will pay the premium on behalf of the BPL beneficiaries for the insurance.
Benefit Package:
This will cover tertiary care for catastrophic diseases. Sum assured will be Rs.1,50,000/- on a family floater basis per year. Additional buffer of Rs.50,000/- per year for the entire family on a case to case basis (if the total expenditure exceeds more than Rs.1,50,000/-) will be provided. The benefit availed by the family will be on a floater basis for a total reimbursement of Rs.1, 50,000/- which can be availed individually or collectively by members of the family.
Cashless Transaction:
It is envisaged that during each hospitalization the transaction shall be cashless for procedures covered under this scheme. Enrolled BPL beneficiary can go to a network hospital and obtain treatment without making any payment to the hospital for procedures provided under the scheme.
Pre-Existing Diseases:
All diseases proposed under the scheme shall be covered under the scheme from day one. A person suffering from any of the identified diseases prior to the inception of the policy shall also be covered.
Types of Services:
• Cardiovascular diseases
• Cancer Treatment
a) Surgery
b) Chemotherapy
c) Radiotherapy
• Neurological diseases
• Renal diseases
• Burns
• Poly trauma cases (Not covered by Motor vehicle insurance)
• Neo-natal cases (not mother)
Tests & medicines for ailments mentioned below are also covered under this scheme.
Services not included:
Kidney related problem, dialysis, transplant accidents excluding motor vehicle, ortho, opthomology, ENT, delivery.
For more information on the scheme, visit http://www.sast.gov.in/home/
For list of hospitals http://www.sast.gov.in/home/Details/Empanelled%20Private%20Hospital.pdf
Hospitals in Whitefield area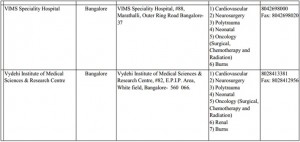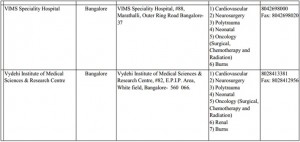 Vajpayee Arogya Medical Scheme
Hospital
Cardiac Surgery/ cardiology
Cancer Treatment
Neurosurgery
Renal diseases
Burns
Poly trauma cases (Not covered by Motor vehicle insurance)
Neo-natal cases
Oncology
Heart
Urology 21
Vasucular
Surgery
Chemotherapy
Radiotherapy
Bhagwan Mahaveer Jain Hospital
VAS
VAS
HCG
VAS
Indus Westside
VAS
Institute of Nephro Urology
Karnataka Cancer
VAS
VAS
VAS
Kidwai
VAS
VAS
VAS
M.S. Ramaiah
VAS
VAS
VAS
Mallya
VAS
VAS
VAS
VAS
VAS
VAS
Narayana Hrudayalaya
VAS
VAS
VAS
Trinity
VAS
Victoria
VAS
VAS
VAS
VAS
VIMS
VAS
Vydehi
VAS
VAS
VAS
Sagar
VAS
VAS
VAS
VAS
VAS
VAS
Vasudev
VAS
VAS
VAS
Organ donation
With less than one in a million donating their organs in India there is a great need to educate the citizens of our country on deceased organ donation.
Government of Karnataka has a Zonal Co-ordination Committee for Transplantation in Karnataka (ZCCK)
Closer home, organs can be donated at Vydehi Institute of Medical Sciences.
Donate your eyes. Take a pledge. Fill up this form for Sankara Nethralaya.
More information at http://bangalore.citizenmatters.in/articles/how-to-be-an-organ-donor
Where to get free medical and surgical care
1 Introduction
Thus article describes where and how to get free medical and surgical care.
2 Sathya Sai Superpecialty Hospital
2.1 Introduction
The Sathya Sai Superpecialty Hospital at Whitefield offers completely free medical and surgical care in Cardiology and Cardiac Surgery provided by highly skilled physicians and nurses using state-of-the-art technology.
Everyone is welcome for a free consultation and evaluation.
2.2 Cardiac Surgery
Cardiac surgery is done for children weighing > 8 kg, and for adults < 60 years of age.
2.3 How to Get an Appointment
Interested patients should come to the main hospital gate along with an adult relative between 7-8 am on any weekday except public holidays. No appointments are necessary.
2.4 What Documents are Required?
Kindly bring your complete medical records and current medications with you.
2.5 Other Services
In addition to cardiac care, we also provide high quality services in neurology, neurosurgery, orthopedic surgery, urology, obstetrics and gynaecology, general medicine, pediatrics, ENT, dermatology, endocrinology, ophthalmology, rheumatology, audiology, physiotherapy, and dentistry – all free of cost
2.6 Contact
2.7 Personal Experiences
Our housekeeping staff Gauramma came to me asking for help as her only son Shiam Shekhar (25 year old) has chest congestion and doctor has asked to do surgery immediately. I looked at the records and he already had a angioplasty done when he was 15 years old. Through Whitefield Rising contact, got to know about Satya Sai Super Specialty hospital.
Jan 23rd – dropped them at entrance. tests & reports done. angioplasty date fixed.
Feb 4th – Admitted.
Feb 6th – Surgery done.
Feb 7th – Getting discharged
Been there today and the way hospital is maintained is far better than any private hospital and volunteer staffs were doing a commendable job.
There were different buildings/sections for cardiology and neurulogy and there is canteen available. For patients, food is free of cost and for visitors at subsidized rates. 24/7 Ambulances and importantly so many volunteer staffs in white uniforms standing all over to guide the patients/family.
Satya Sai Super Speciality Hospital – A place where the treatment for cardiology and neurology is done at free of cost. If you know any needy one(maids/security staff/poor), just drop them at this hospital entrance between 7 and 8 AM during week days( week ends and holidays closed).
– Karthik, ECC Road, Whitefield
3 Dhanvantri Clinic
This clinic is located near Ryan International school at Kundalahalli.
3.1 Services
No fee consulations
Free medicines
10% charged for lab for poor
Free iron and calcium medicines
3.2 Contact
4 Puspha Nursing Home
This clinic is located at No. 284 Whitefield Main Road.
4.1 Services
4.2 Contact
5 Vydehi Institute of Medical Science and Hospital
This clinic located at Nellurhalli.
5.1 Services
Cardiology
Cardio Thoracic & Vascular Surgery
Oncology
Urology
Nephrology
Neonatology
Plastic Surgery
Cranio-Maxillofacial Surgery
Neurosurgery
Neurology
Gastroenterology
Endocrinology
Endocrine Surgery
5.2 Contact
6 Sankara Eye Hospital
This clinic is located near Kundalahalli Gate Signal.
6.1 Services
6.2 Contact